A/B Testing Lab makes it easy to deliver the best experience for every visitor.
Why?
Content is king. Test what really matters.
Increase user engagement.
Optimize your website to serve visitors as good as possible.
Create different variations of your content using a simple visual editor.
Dead-simple integration - just copy-paste a small code snippet into your website and you are ready to go.
How?
Add a small javascript code to your website. Open our visual test editor.
Choose the element you want to optimize.
Describe a variation. You may specify different styling too.
Choose a conversion event. How will you measure success?
Choose the reach of your test. How many visitors should participate?
Save everything and go grab a coffee. Our script is applying the test to your website every time it loads. This happens completely seamlessly.
Let the test run for a while. We will notify you when it ends.
Review the results and make changes accordingly.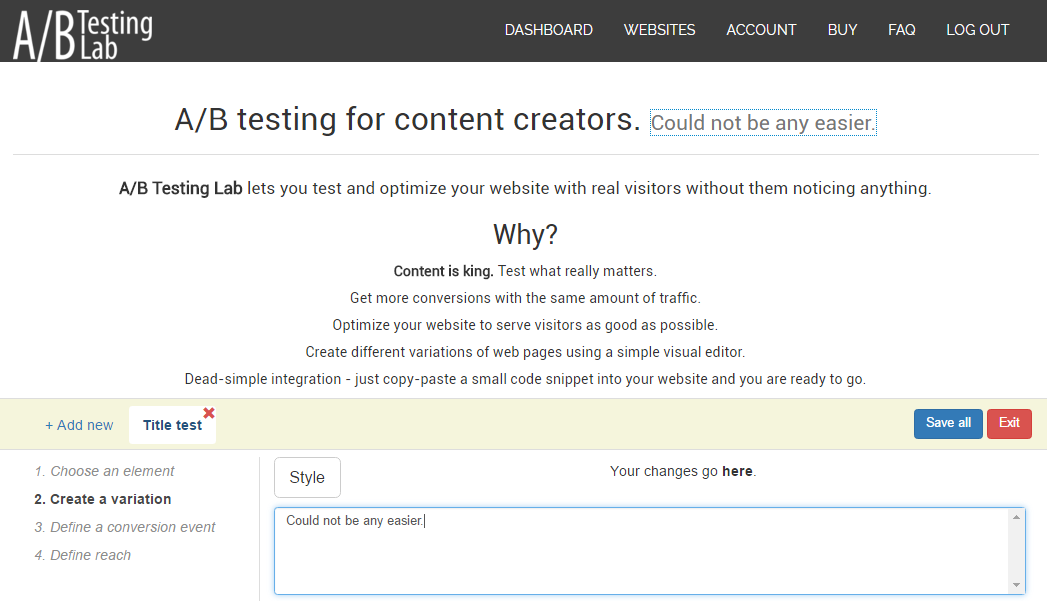 or
Pricing
No hidden or monthly fees - pay only for what you use.
One tested visitor is counted when the visitor is introduced to a new test for the first time. All the subsequent times when that same test is presented to the same visitor are not added to this number.

Important! A/B Testing Lab does NOT provide any new visitors to your website. This service provides the tools to run content experiments with the traffic that your website is already getting by itself. When your plan ends or you stop the tests, your visitors will see the default version of the website without any changes. Simple as that.
Click here for more information.

Have more questions? Check out our F.A.Q. or contact us.